AIRPORT AWARDS $4.8 MILLION CONSTRUCTION CONTRACT
April 12, 2017
Contractor will build new General Aviation Terminal & Hangar Facility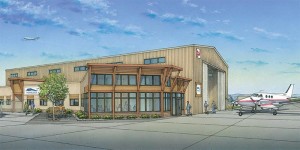 ROCK SPRINGS, WY ─ The Rock Springs-Sweetwater County Airport Joint Powers Board has awarded a construction contract for the construction of a new General Aviation Terminal & Hangar Facility to A. Pleasant Construction of Green River, WY. The awarded contract is valued at $4,805,980.19.
The new General Aviation Terminal & Hangar Facility will replace a decades old facility that dates to the 1920's. The existing facility no longer meets the needs of the travelling public and serves as a barrier to economic development in Southwest Wyoming. General Aviation accounts for nearly 87% of the airport's operating revenue and has been a focus of the Airport Board and Staff for the last 2 years as it works towards operational self-sustainability.
The total project cost including this contract, design, engineering, project management/inspection, and building permits is expected to be $5,480,000.
"With the gracious help of the Wyoming Business Council, Federal Aviation Administration, and Wyoming Department of Transportation Aeronautics Division, this project is 100% grant funded requiring no local match," commented Devon Brubaker, Airport Manager. "The airport serves as one of two gateways into our community for tourism and business. The existing facilities stopped serving the needs of our community decades ago and are severely overdue for replacement."
Demolition of the existing facility is expected to commence immediately with construction of the new facility immediately following. The new Hangar will be operational by December 2017 with the terminal coming online in April 2018.
Additional projects associated with this new facility include the construction of a 30 kWh solar array that will offset an estimated 50% of the new facility's electrical demand. This solar array is made possible through Rocky Mountain Power's Blue Sky Program and its partners.
A public ground-breaking will be scheduled in the coming weeks to help the airport celebrate the start of this monumental project.