AIRPORT MAKES DONATION TO BOYS & GIRLS CLUB OF SWEETWATER COUNTY
July 14, 2017
$996 Donation is 15% of Parking Donations Received Since 2014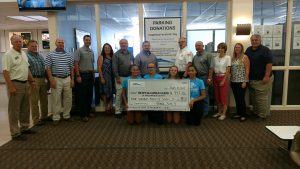 ROCK SPRINGS, WY ─ Through the benevolence of the its customers, the Rock Springs-Sweetwater County Airport Joint Powers Board announced today a $996 donation to the Boys & Girls Club of Sweetwater County.
Since 2014, the airport has been collecting donations from customers for parking. The airport when launching this donation program pledged to donate 15% of all parking donations to the Boys & Girls Club of Sweetwater County. Since the program's inception, the airport has collected just over $6,640 in parking donations.
"This program has been a great addition to the airport. By offering free parking, we offer a level of service not found at other airports in the region. Through the generosity of our customers we have not only been able to better maintain this free service and facility, but also support a great local organization that helps put our local youth on the path to great futures," commented Devon Brubaker, Airport Manager.
"We are excited to continue our relationship with the Boys & Girls Club through this program," continued Brubaker
Without these donations, it would be very difficult for the airport to offer free parking to its customers. The cost of maintaining the parking lot year-round is far more than what is collected in donations. To date, all of the remaining donations have been used to fund the purchase of a V-Plow for use in the parking lot.
Customers wishing to make donations for utilizing the airport's free parking can do so by check or cash in one of the donation boxes located by and inside the TSA Security Checkpoint.
About the Rock Springs-Sweetwater County Airport
The Rock Springs-Sweetwater County Airport is a commercial and general aviation airport serving Southwest Wyoming and is located 7 miles east of Rock Springs in Sweetwater County. It is owned and operated by the Rock Springs Sweetwater County Airport Joint Powers Board representing both the City of Rock Springs and Sweetwater County. Serving over 36,000 commercial passengers and thousands of general aviation flights annually, the airport generates an annual economic impact of over $27 million to the local community and $31 million to the State of Wyoming.
###