RKS AIRPORT MANAGER DEVON BRUBAKER RECEIVES AIRPORT MANAGER OF THE YEAR AWARD
September 22, 2017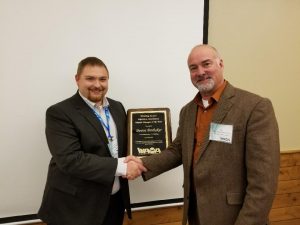 Presented by the Wyoming Airport Operator's Association
ROCK SPRINGS, WY ─ The Wyoming Airport Operators Association has recognized Rock Springs-Sweetwater County Airport's Devon Brubaker as the Airport Manager of the Year for 2017.
The award highlights Brubaker for his continued dedication to the aviation industry, his community, and the Rock Springs-Sweetwater County Airport.
Brubaker was immensely grateful; "Being chosen as the Wyoming Airport Operators Association Airport Manager of the Year is truly the most significant honor of my career. Our success at RKS would not be possible without the hard work and dedication of our staff or the support of our Airport Board (past and present), City Council, County Commission, and my loving family. I am truly honored to represent our community with this award."
Under Brubaker's leadership Rock Springs-Sweetwater County Airport has experienced unprecedented growth, while also seeing record increases in fuel sales, passengers and customer satisfaction. Devon's stewardship has also been critical to securing over $13 million in federal, state, and private grants and successfully negotiating lower airfares with SkyWest Airlines. This has all been accomplished while working to deliver an airport that not only meets the needs of the region but serves as a source of pride for the community.
Brubaker also recognized two longtime mentors, Dr. Sigsbee Duck who served as a RKS Airport Board Member for many years and currently serves as a Wyoming Aeronautics Commissioner in addition to longtime friend and colleague Kevin Foley who currently serves as the Executive Director of Des Moines International Airport.