RKS CELEBRATES SOLAR FACILITY CONSTRUCTION
September 29, 2017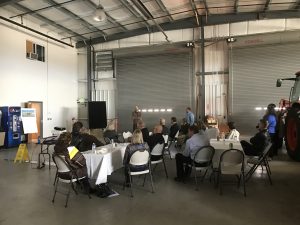 Celebration centered around Rocky Mountain Power's Blue Sky Program and its generous contribution to our community.
ROCK SPRINGS, WY ─ The Rock Springs-Sweetwater County Airport celebrated the beginning of construction on its new 30 kw solar power generation facility at a ceremony today. The airport, in partnership with Rocky Mountain Power, hosted approximately 30 dignitaries and members of the community for a celebration of Rocky Mountain Power's Blue Sky Program's contribution of $94,216 for the new solar array at the Rock Springs-Sweetwater County Airport. This project is made possible with the generous contributions that Rocky Mountain Power's Blue Sky program customers make each month.
The 30-kilowatt array is being built in conjunction with the airport's new General Aviation Terminal & Hangar Facility that is scheduled to open for operations in December 2017. The construction of the array began in earnest this week with construction expected to take up to two weeks. The contractor, Creative Energies, of Lander, WY has worked with the airport for nearly a year to plan, design, and now construct the facility.
This project will allow the airport to continue the pursuit of a sustainable operation through energy and cost savings immediately upon commissioning. This renewable energy project will offset a large portion of the anticipated electrical demand for the new 29,658 ft2 facility that is being constructed to support all general aviation aircraft and customers that operate at the airport.
"We are honored to have been selected to receive Blue Sky Program Funding to continue our goal of making our airport a more sustainable operation. We are grateful for all of the Blue Sky Program customers who make this program possible. We wanted to install a system that could not only provide for operational savings for the airport, but one that could serve as an educational tool for our community and its visitors. It is our hope that this solar project will be the first of many at our airport and in our community."
This solar project is the latest in a series of improvements at the airport that reduce the environmental footprint of the airport's operations. Recent projects include Commercial Terminal HVAC and Boiler Systems Replacement, Commercial Terminal LED Lighting Upgrade, Airfield LED Lighting Upgrade, and Building Automation System Installation. Future projects include several LED Retrofit projects as well as additional solar arrays to support other existing facilities on airport property.