Fuel Prices:
Jet A: $3.99
100LL: $4.95
*subject to change based on market conditions
Flying's never been so sweet.
Sweetwater Aviation is an AvFuel branded, full-service Fixed Base Operator (FBO) located at the Southwest Wyoming Regional Airport. Located 10 minutes East of Rock Springs, your crew and passengers will have access to rental car, taxi and private transportation services.
Make your reservation today and we'll have everything ready for your crew and passengers when you arrive.
Above & Beyond
Discover southwest Wyoming's first-choice FBO, where the safety, needs and desires of your passengers and crew are always our number one priority. Redefining above and beyond service with a "can help" attitude, the Sweetwater Aviation staff is on standby to deliver a superior aviation experience. From touch down to take off, our staff is 100 percent focused on ensuring your needs are met with a variety of services, from aircraft maintenance to custom catering.
At Sweetwater Aviation, we go the extra mile to make your visit as seamless as possible. From assistance with your luggage, to offering a complimentary cup of coffee, your convenience and comfort is our primary concern. Sit back, relax, and enjoy free Wi-Fi in our lobby while taking in the beautiful views of the peaceful Southwest Wyoming.
Our Promise
At Sweetwater Aviation, our promise is to use more than 50 years of aviation service experience to deliver a "can help" attitude in guest-ready facilities with immediate service and amenity access.
Facility Fees
We believe the quality, safety, comfort and security of general aviation should be reflected in the services provided by the FBO. Accordingly, Sweetwater Aviation is designed and staffed to meet the highest service standards. To facilitate the equitable distribution of the costs associated with maintaining and operating our facilities, a facility fee will be applied to all turboprop and turbine aircraft that do not purchase a minimum amount of fuel.
New $6 million Terminal & Hangar Complex NOW OPEN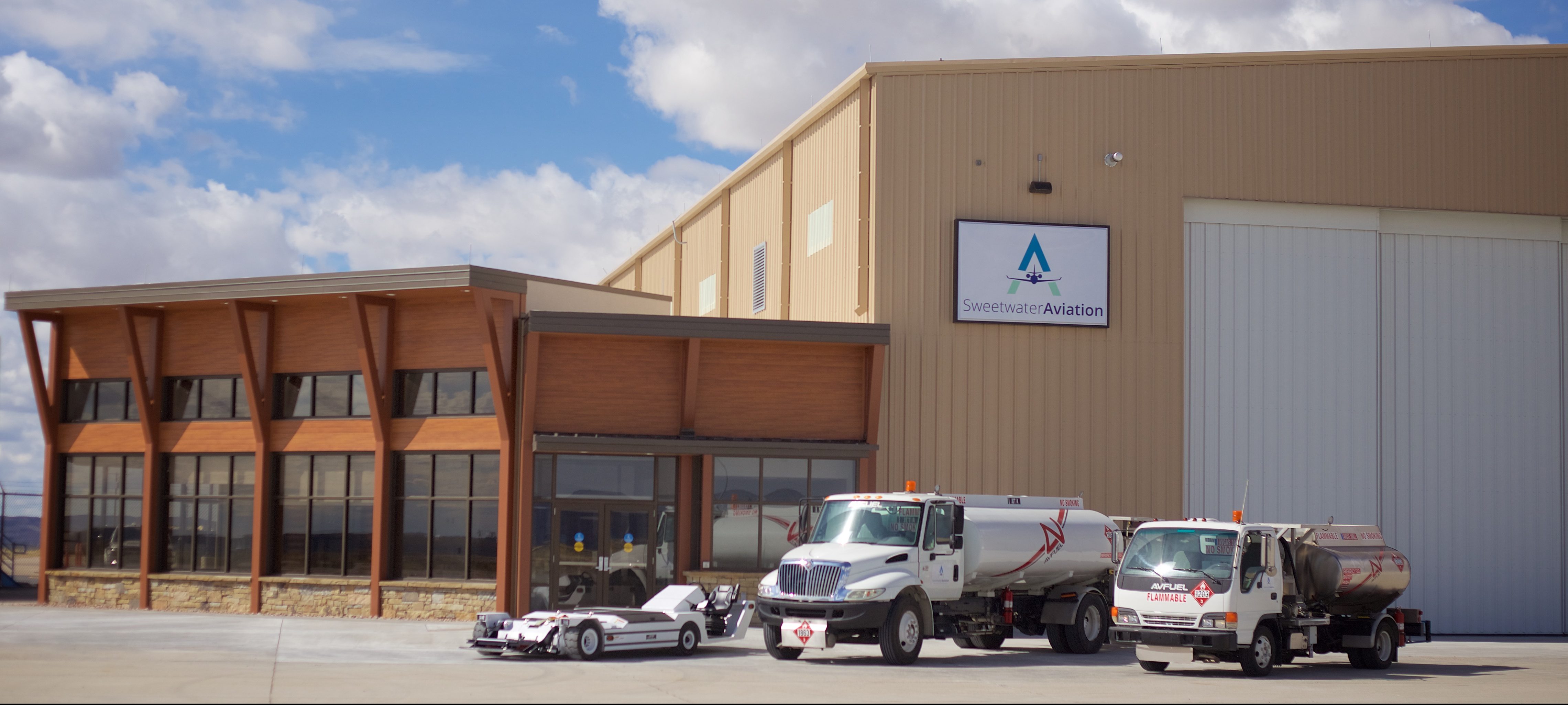 The new FBO is host to:
24,750 sq. ft. heated hangar capable of supporting aircraft including G550/650, Global Express XRS, and many others

Dedicated pilot lounge and quiet rooms

Workout facility, golf simulator

Passenger lounge

Conference Rooms

Office space

Heated vehicle garages